Helping Policyholders Recover From Disaster
At Merlin Law Group, we understand the pain and frustration that comes after sustaining damage to your property. When your insurance company is supposed to be there to help, they end up creating a second disaster by abandoning their responsibilities to their loyal policyholders. Since 1985, Merlin Law Group has been dedicated to obtaining justice for policyholders as they navigate their property insurance claims. Our insurance claim law firm has successfully litigated and recovered damages of more than 100 million dollars for an insured on a single case. Having a dedicated trial team, the financial resources to fight insurer delay tactics, and an extensive network of damage mitigation experts has enabled Merlin Law Group to stand out from our competitors.
Why Merlin?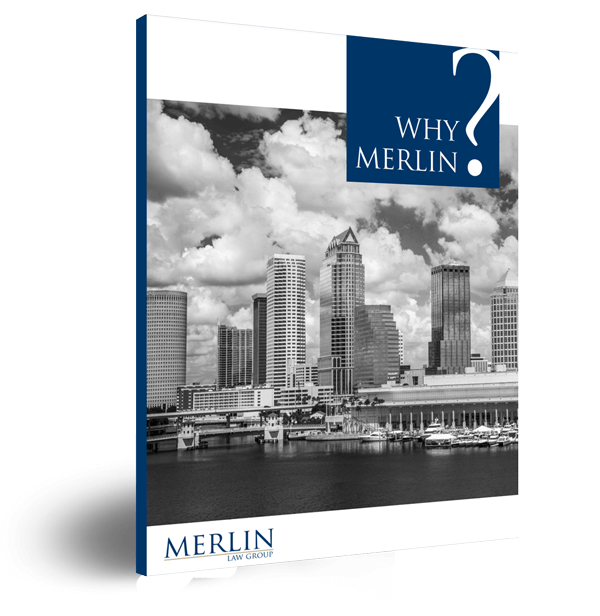 Merlin Law Group has helped both residential and commercial policyholders with recovery on their property insurance claims. Download our Why Merlin? eBook to learn more about what we bring to the table and how we can help you.
Download eBook
Types of Loss
We handle all types of property insurance claims. Below you will find some of our key practice areas. Please do not hesitate to contact us with questions about your claim.
Timeline for Claim Process
Step 1
Loss
After the loss, you should document all damages with photographs to submit to your insurance company.
Learn More
Step 2
Report the Claim
Contact your insurance provider to notify them of the loss. Check your policy for any deadlines with providing a Notice of Loss.
Learn More
Step 3
Information Request
Your insurance company will ask you questions about the claim. This may also be the time to submit any photos, repair estimates, and Proof of Loss documents.
Learn More
Step 4
Property Inspection
After your insurer is made aware of the loss, they will send an independent adjuster to the property to inspect the damage.
Learn More
Step 5
Coverage Decision
When you receive a coverage decision, your insurer should list their reasons for denial and the portion of your policy they are citing.
Learn More
Step 6
Examination Under Oath
Your insurance carrier may enact an Examination Under Oath (EUO) in which the insurer must answer questions surrounding the nature of the insurance claim.
Learn More
Step 7
Seek Assistance
If you are dissatisfied with your insurance company's decision on your claim, Merlin Law Group can help.
Learn More
Frequently Asked Questions
In some cases, property insurance claims are handled promptly and fairly. These instances do not require an attorney, as insurance companies are honoring their obligations to the policyholder under the conditions of the policy. When an insurance company wrongfully delays, denies, or underpays your claim, it is recommended you consult with an experienced insurance claim attorney to review your options.
Merlin Law Group attorneys work on a contingency fee basis, so there is no cost to you unless we win your case. In many cases, Merlin Law Group will hire industry experts, among other resources, to build the ultimate case for you, the policyholder. In these cases, costs can accumulate greatly and quickly. Merlin Law Group attorneys know that these in-depth, unbiased expert analyses can make or break your insurance claim. Merlin Law Group is dedicated to obtaining the maximum settlement for our clients and will advance most costs pre-settlement.
The attorneys at Merlin Law Group will choose top industry experts tailored to your specific type of claim and in most cases, the firm fronts all costs for experienced experts in order to build the strongest case for you, the policyholder. We also have a dedicated trial team should your case head to trial.
From engineers to contractors to independent professionals, Merlin Law Group retains qualified experts to adequately assess your insurance claim. The utilization of these professional expert witnesses sets Merlin Law Group apart from other insurance law firms.
Merlin Law Group asks you to please provide the following documents if applicable and available.
For Residential and Commercial Property Claims:
Insurance policy or copy of declaration page of insurance policy
Denial letter
Any and all correspondence to and from the insurance company
Any estimates of items to be replaced/repaired
You can fill out our Free Case Review form to provide any relevant information regarding your claim. Our staff will reach out to you with available options.
View all FAQs
We are here for you
As The Policyholder's Advocate™, Merlin Law Group aims to drive positive change within the insurance sector by educating policyholders on their rights. By holding insurers accountable to their customers, we hope to bridge the gap between insureds and their insurers. Your insurance company should be there to help in your time of need, not make the situation worse. Merlin Law Group can help you get back to normal after a loss.
See what our customers have to say
Thank you Ashley Harris and Will Midtbo. Ashley was extremely helpful reviewing the policy and guiding my strategy for the recovery. Will was very responsive and helped coordinate communications. In the end my client got a full limit of insurance recovery. Thank you both. Great company.
William Williams
Top notch firm of first party property insurance plaintiff attorneys. Merlin is very big on education, training and ethics. And they put out a great blog.
Mark Goldwich
I would like to thank Merin Law Group for their professionalism! Drew was amazing! He has such a passion and truly cares for people! He is very courteous! Pam and Will are very helpful! Everything was explained step by step. I would highly recommend this firm. Thank you for all your hard work and dedication!
Holly Carter
The Merlin Law Group was outstanding. Their service was excellent and timely. The entire team was most helpful and gave me a superb settlement to my damage claims. Highly recommend for any legal requirements.
Jerry Ladd
Merlin Law arranged a settlement from our homeowners insurance because Irma hurricane roof damage had been denied. Everything that was explained to us about how our settlement would be resolved took place. We were pleased it took a reasonable time to resolve and our roof will be replaced. Their service was paid by our insurance.
Ed Levy
My experience with Merlin Law was very positive. All communication was professional and courteous, with many updates on the progress of the case. I highly recommend Mr. Austin and his staff for any claim against an insurance company.
Betty Russell
I am blessed to receive help from the Merlin Law Group. May God richly bless this firm. All for God's glory.
Ivandale Remocal
They took us from a total disaster to complete peace of mind. I can't recommend them enough.
Jon Vanderlinde
Very happy with the professional and result driven service that I received from Shaun Marker and his team.
Liz Van Tassel
Great Attorneys Larry Bache and Lucas Austin and Team....they will prevail and win...HIGHLY RECOMMEND THIS FIRM.
Jim Barnes
Merlin Law Group was great. Went above and beyond to get us what we needed. Our paralegal Bob was extremely helpful and responsive. Very experienced group and got the job done in the timeframe expected. Highly recommend to others!
Bernadette de Isaza
I would like to thank Merlin Law Group for their professionalism! Drew was amazing! He has such a passion and truly cares for people! He is very courteous! Pam and Will are very helpful! They go above and beyond! Everything was explained step by step. I would highly recommend this firm. Thank you for all your hard work and dedication!
Holly Carter
The best law form for property damage claims
Ruben Calas
The Merlin team was able to settle our claim when we thought we were destined to live in our backyard for the foreseeable future. The guidance provided to us at every turn proved to be the difference. My recommendation is to let the insurance company do their job but if they come up short, have the Merlin team on speed dial and waste no time pressing the button for help.
Gary Wagner
I have worked with Merlin for years. They are the most upstanding firm I know.
Justin Robert Skipton
Awards

In the News
No Fee Unless We Win
Merlin Law Group operates on a contingency fee basis, meaning we do not get paid unless we win your case. We will also advance most costs pre-settlement to ensure you have the strongest case possible.
Let's review your case at no cost